Quaker Valley High School
Class Of 1978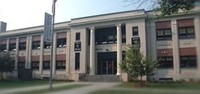 Welcome
to the
Quaker Valley High School
Class Of 1978 Web Site
Questions/Problems/Issues?
Please contact:
Lee Murrer
murrer@comcast.net
ANNOUNCEMENTS
OK Everyone. I got enough responses to act on putting together a 40th Reunion. So far, most of the concensus has been to have it in the Fall. I have to admit that my weekends are busy due to a second job that is helping to put my son through Central Catholic HS, so most of my weekends are booked. The best weekend in October that I can arrange would be the weekend of October 12 and 13.
I'm thinking of a "meet and greet night" on Friday the 12th. Then on the 13th, an afternoon sightseeing cruise on one of the Gateway Clipper boats, ending with a trip up to Mt. Washington for a casual dinner and some incredible views of the City and hopefully lots of changing foliage for some great pictures. I think it is best to rent a bus or two (if needed) for Saturday, in order to keep us all together.
The meet and greet will be cash bar at a local brewery. Believe it or not, Coraopolis has one of the best ones I've been to in our area. They will also have wine and mixed drinks available. Food can be delivered, or they may have a food truck in the parking lot. We can end the evening back is Sewickley, for those who wish to continue into the night.
As for the cruise, I know that the cost would be about $22 per person. Snack bar and full service bar will be available. The best time would be around 2pm.
The Mt. Washington part of the excursion, as well as the price, will depend on the number of people. We can do dinner at one of the restaurants, or something even more casual at one of the many bars. I just need to get a better idea of the number of people and what the majority would like to do. I was thinking about the Shiloh Grill as the restaurant. You can look up the menu and the prices for yourselves and let me know what you are interested in doing.
I will need to book the cruise no later than mid August, just to make sure we can get the day and time we want, so I'll need at least $22 per person to start.
I belong to an APP called VENMO, which allows money to be transferred online, if that is convenient. Or, you can just send me a personal check. My email is mholman15202.mh@gmail.com to leave me a message with what works best for you.
I'M LOOKING FORWARD TO HEARING FROM YOU ALL! PASS ALONG TO ANY CLASSMATES YOU KNOW OF NOT ON HERE OR FACEBOOK!
MARY (HARTLEY) HOLMAN
UPCOMING BIRTHDAYS