Quaker Valley High School
Class Of 1978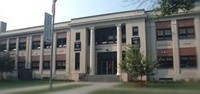 In Memory
Noble Sonny Crawford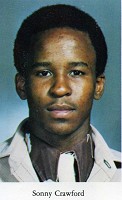 From the Sewickley Herald: Wednesday, May 2, 1984; page 24:

Noble E. (Sonny) Crawford, 24, of 614 Grimes St., Sewickley, died suddenly on April 27, 1984. He was dead on arrival at Sewickley Valley Hospital.
Mr. Crawford was born in Sewickley, the son of Noble E. and Thelma Blackson Crawford Sr. He was a 1978 graduate of Quaker Valley High School and attended California University of Pennsylvania.
Mr. Crawford, a member of Antioch Baptist Church, was employed by U.S. Air in the baggage department at Greater Pittsburgh International Airport.
Surviving in addition to his parents are two sisters, Gervaise L. Edger and Arvella E. Crawford, both of Sewickley; and a brother, Carl D. Lockhart U.S. Army, Ft. Lewis, Washington.
Friends were received at the Richard D. Cole Funeral Home, Sewickley, where a funeral was held on April 30. His pastor, the Rev. Jezreel Toliver officiated, Burial was in Sewickley Cemetery.


Sonny was a cool dude. Never a harsh word to say; he had a disarming manner that made one want to be around him. I smile at his memory...L Murrer.