Quaker Valley High School
Class Of 1978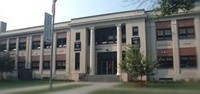 In Memory
Bethan Hyde
Bethan Hyde, of Winter Springs, formerly of Bell Acres Borough, PA. Bethan peacefully past away on November 18th, 2010. Born in Bellevue, Pennsylvania. Daughter of Curtis and Gloria Hyde (predeceased). Sister of Edward Hyde of, Medford, OR, Kim Hyde of, Pittsburgh, PA, Dick Hyde of Colorado Springs and Susan Hyde of Raleigh, NC. Bethan is survived by twelve nieces and nephews. The family deeply appreciates and is so thankful for her friends,co workers, neighbors, the Staff at MD Anderson, and Vitas Hospice.
-------------------------------------------------------------------
Please visit Beanie's website where she chronicled her life while battling cancer:
www.caringbridge.org/visit/bethanhyde
--------------------------------------------------------------------
We all lost a dear friend this week. The great warrior, Bethan Hyde, lost her battle with cancer Wednesday morning. She died peacefully at home. She fought long and hard during these past three years and we have all been constantly amazed by her courage. Bethan has always been very appreciative of the outpouring of support sent to her, both financial and emotional, and continually expressed that.

Bethan's family is grateful for the loving support many of you have provided and the prayers of everyone along the way. Please come celebrate her strength, courage and determination by joining together that night!

Diane Mummaw
Vice President
FREE STATE STAFFING SERVICES, INC.
-----------------------------------------------------------------------
Beanie's nephew, Evan Hyde, gave the following commemoration at Beanie's Celebration of Life:

Good Evening Everyone, Thank you for coming tonight.
My name is Evan Hyde and I am Bethan's eldest nephew. I have known her for about as long as some of you. In our family, Bethan was referred to as "Beane" or "Dock." So do not be surprised if these names slip out during the course of this evening. The origins of these nicknames are unknown to me. If any of you have nicknames for her, I would enjoy knowing them as well.
For me, memories of Beane can be summed up into one thought.
She was the cool aunt.
Maybe it was because she was the youngest of her five siblings and closest in age and mindset to the next generation. Maybe it was because she was rebellious and wanted to instill the same rebellion in her nieces and nephews to get back at her siblings. Maybe it was because she was the most generous and caring one who always wanted to help and spread joy. Maybe it was just because she WAS cool-ER than the rest. Like the tootsie pop, the world may never know.
What I do know is that we had fun over the years. I recall times like….
· My first driving experience at age 15 while driving across the country with her
· Sneaking into the Indianapolis Motor Speedway while it was closed, through the main office mind you, to get a closer look at the cars and the infield.
· Playing bumper carts on the golf course in her neighborhood
· Laughing until we were crying while watching Larry the cable guy on that new huge TV she bought
· All the smiles and hugs when she walked into the chemo room wearing those goofy outfits
These stories are how I will choose to remember her.


I would like to speak for our family. I would like to thank ALL of you for ALL your support.
Bethan's friends….
· Drove her to Dr's appointment, chemotherapy, radiation, Pet Scan, Cat Scans.
· So many cooked and brought her food and also taking her out to lunch.
· She was so thankful for her birthday parties. Her 49th and 50th.
· Bethan was so excited and grateful for the golf tournament this past January.
· The family is grateful for all the phone calls and everyone checking up on her.
· We cannot be more thankful for the friends that spent the weekend's with her, doing her laundry, playing cards and games and watching movies or comedians with her.
Those times were precious to her and our family. It can truly be said, that her family is right here in this room. It is the circle of friends she surrounded herself with here in Florida.

We thank all the organizations and business that donated money to help her. We thank Lesley Liggett for all her support and friendship to Bethan and our family. Lesley assisted with the Cats Crackers and Bailey. Daily litter box cleanout is a less than glamorous duty. Lesley also spent Monday and Tuesday evening watching Dancing with the Stars. Neighbors Connie and Roddy provided spiritual guidance to Bethan. Bethan only had a few complications from the chemotherapy and we realize the positive reinforcement did improve her quality of life. We thank everyone for all the support. As you know from the attendance this evening to the journal entries on her Caringbridge website, she has impacted so manys lives. We hope going forward that all of you find the strength to continue her message regarding friendship, networking, working hard and whenever possible to have fun and joke around. Bethan will truely be missed. Again the Hyde family would like to extend our deepest appreciation to all of you and your families. We know that you gave up time with your family to spend with Bethan.
We value and respect everyone for going above and beyond.
Tonight will be a celebration of her life. These are not sad moments but moments we can reflect on the joy she brought to our lives. For however brief, we were lucky to have her in our lives and she will always be in our hearts.

In closing, we would like to thank …
· All of you who came tonight to celebrate Bethan's life
· All those who couldn't be here tonight but who are here in spirit
· Those who donated to Vitas hospice in Bethan's name
We would also like to offer a special thanks to …..
· The good people at York Claims
· Those who provided support at her golf tournament and numerous parties over the past year. Those memories will last a life time.
· The generous ladies who made tonight's celebration possible
o Diane Mummaw
o Teri Simpson
o Beth and Briston Breig
o Melissa Harrison
I will leave you with one final thought that I believe Bethan would have liked us to end on.
[Play song]
The Florida State war song challenges us to Fight, Fight, Fight.
And that's what she would have wanted us to do
Thank you