Quaker Valley High School
Class Of 1978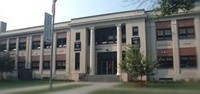 35th Year Reunion
On Friday, October 4th...there is a QV football game for those who would like to attend. Marisa (Menniti) Tobias will have a sign for the class, so look for her in the parking lot or in the stands.
We were planning to meet at 424 Walnut in Sewickley, formerly Sweetwater Grille, around 9pm for the meet and greet. Also, the Octoberfest is going on at the Sharp Edge, which might be a fun place for saturday afternoon before the shindig...;)!
Saturday at the Linden Place Condos on Grant Street. Come to the entrance on Grant Street. There will be balloons at the entrance, park anywhere in the lot, just not at the turnaround at the front entrance (on Linden Place). Come to the Penthouse floor...6ish!
There is still time for anyone who has not RSVPed. If you are coming for sure, reply with an email to me and I will order food for you. Otherwise, I'm only ordering for the people I know are coming.
Thanks, and looking forward to a GREAT time!!